CLIFTON SUSPENSION BRIDGE
---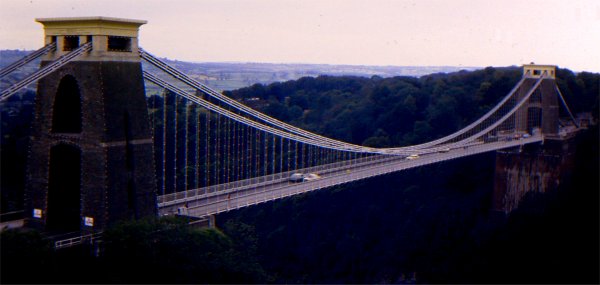 The Clifton Suspension Bridge spans the Avon Gorge and the River Avon, linking Clifton in Bristol to Leigh Woods in North Somerset. Since opening in 1864, it has been a toll bridge; the income from which provides funds for its maintenance. The bridge is built to a design by William Henry Barlow and John Hawkshaw, based on an earlier design by Isambard Kingdom Brunel, and contributed to by Sarah Guppy. It is a grade I listed building and forms part of the B3129 road.

The idea of building a bridge across the Avon Gorge originated in 1753. Original plans were for a stone bridge and later iterations were for a wrought iron structure. In 1831, an attempt to build Brunel's design was halted by the Bristol riots, and the revised version of his designs was built after his death and completed in 1864. Although similar in size, the bridge towers are not identical in design, the Clifton tower having side cut-outs, the Leigh tower more pointed arches atop a 110-foot (34 m) red sandstone-clad abutment. Roller-mounted "saddles" at the top of each tower allow movement of the three independent wrought iron chains on each side when loads pass over the bridge. The bridge deck is suspended by 162 vertical wrought-iron rods in 81 matching pairs.

The Clifton Bridge Company initially managed the bridge under licence from a charitable trust. The trust subsequently purchased the company shares, completing this in 1949 and took over the running of the bridge using the income from tolls to pay for maintenance. The bridge is a distinctive landmark, used as a symbol of Bristol on postcards, promotional materials, and informational web sites. It was also used as a backdrop to several films and television advertising and programmes. It has also been the venue for significant cultural events such as the first modern bungee jump in 1979, the last ever Concorde flight in 2003 and a handover of the Olympic Torch relay in 2012.
---